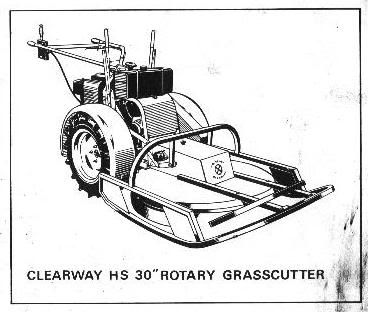 Hello,
If it is the Clearway HS30 that you have.. which by the description of the twisted belt it is... then the old part number for the flat belt idler pulley was CL221.
Wolseley Webb garden machinery products were taken on by Qualcast/Atco in 1984 and it is they that would have continued the spares supply....but the years go by and we are now talking about an old machine..albeit an absolutely brilliant cutter, ahead of its time and without parallel.
Spares I suspect will be getting a bit scarce as the ususal policy is that once they are sold out of the Qualcast/Atco stores they are not remade for re-stocking.
I was involved with an attempt to get a hydrostat control cable for a HS 30 a few years ago..I checked and was told that there were 2 in stock centrally...a few days went by as I needed the ok to purchase the item.. but it was too late and they had gone..!! Likewise with a search for a blade shaft..
It may be worth checking with a few Qualcast/Atco service agents found from
www.atco.co.uk
or
www.qualcast.co.uk
then Atco/Qualcast Owners link then Service Agent postcode search. You will need to find a long established dealer who has been involved with Wolseley/Webb in days gone by to be familiar with the HS30.. or else you will get blank looks.!!!
I think the pulley in question was the subject of some problems at one time and seem to have a feeling that it may have been modified slightly through the Clearways history..???
I have a strong suspicion that you may have to end up having a pulley made up by a local engineering works...but if the rest of the machine has checked out all ok...it may be worth it as in fine fettle a HS30 can tame grass of jungle proportions...but do beware of stumps and logs etc.. that is the favourite to break the toothed belt if you are lucky
and the blade shaft if unlucky.!!
another job for the engineering works..
I have a parts list and operators manual scanned to disk for a 1974 model HS30.. of which you are welcome of a copy by e-mail. There will be detail differences on the later models notably with the motion control lever but largely the instructions will be correct.
All the best,
Clive.