We look at some simple ways to take the hard work out of soil cultivation.
With the rise in no-dig gardening the annual winter dig has been going out of style lately, yet for many gardeners this task marks the transition from the last harvests of autumn to the long winter months ahead.
It's when most tidy and prepare for the season to come and for some is as traditional as sowing your large onions on Boxing Day and planting your potatoes in March.
Whatever your point of view – whether you are a traditional digger who believes that digging is the best way to prepare and improve the soil for another year of intensive cropping, or someone who rarely if ever digs, there may be times when some digging is the easiest practical way to solve persistent problems.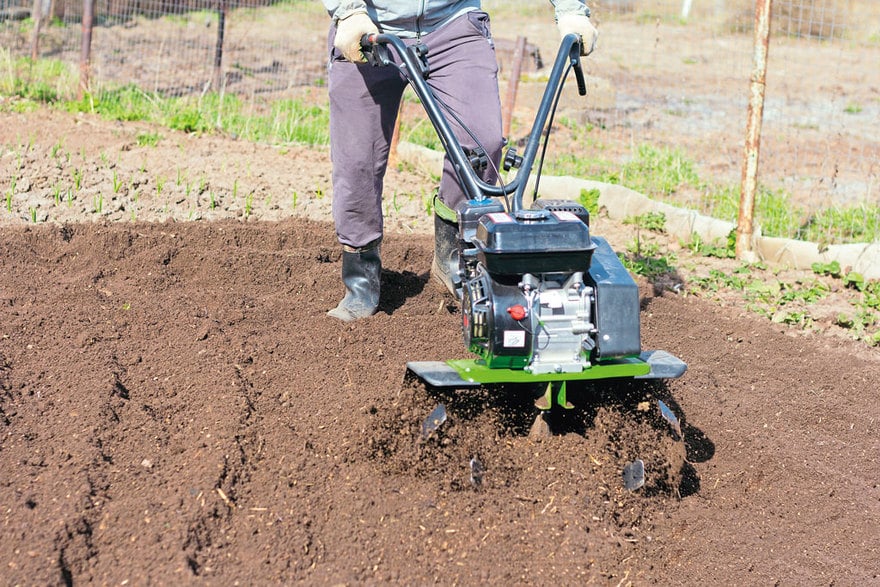 For example, when taking on a very overgrown allotment which is full of deep-rooted perennial weeds or where a pan (hard layer) has built up in the soil as a result of previous poor cultivation or where the natural subsoil is compacted, leading to poor drainage and aeration.
Or perhaps you simply need to dig a hole to plant trees or soft fruit or to sink a fence post. All require a digging tool of some sort.
Mechanised Muscle
For those with larger areas to cultivate or to convert from lawn to productive land, a powered cultivator is one option.
Some local councils or allotment associations will organise clearance of the ground before you take on a neglected plot, leaving it more or less clear for you to get started, but this is not all that common and you may decide to call in some muscle to speed up the work.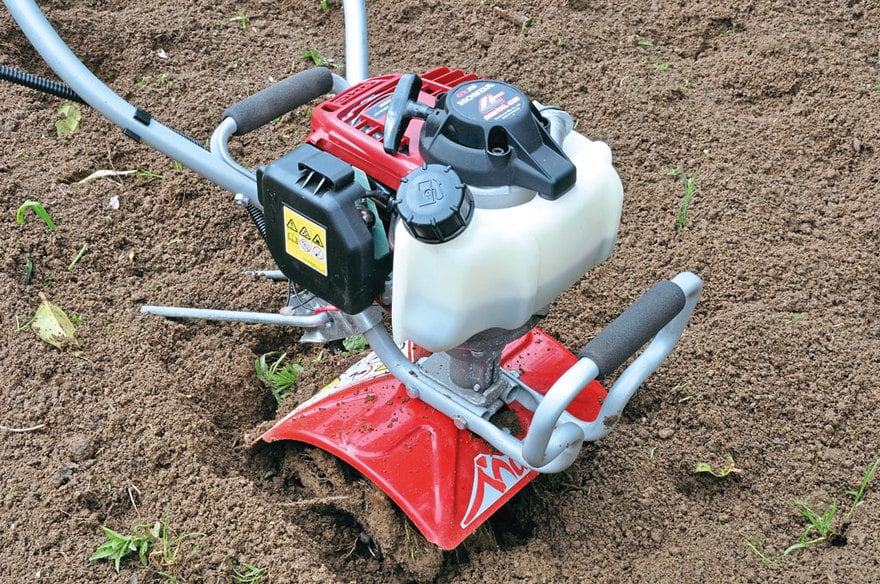 This is where rotary cultivators or rotavators may come in. These can be hired if you only intend to use them very occasionally, but if digging is something you do every year, or if you are part of an allotment group who might share such a piece of kit, purchasing might be cheaper in the long run.
What's available
Rotary cultivators come in many sizes depending on the area to be covered, from mini tillers small enough to use as weeding tools between rows of growing crops as well as to cultivate the soil in raised and traditional beds, to big wheeled models for dealing with larger areas.
Many use the blades themselves to both cultivate the soil and to power the machine forwards and may have non-powered wheels to help counterbalance the machine.
Larger models may have powered wheels to help pull the machine along through uneven ground. The depth of the blades can be varied either with an adjustable skid or by simply adjusting your forward motion; holding the machine back as the blades naturally try to propel it forwards through the soil.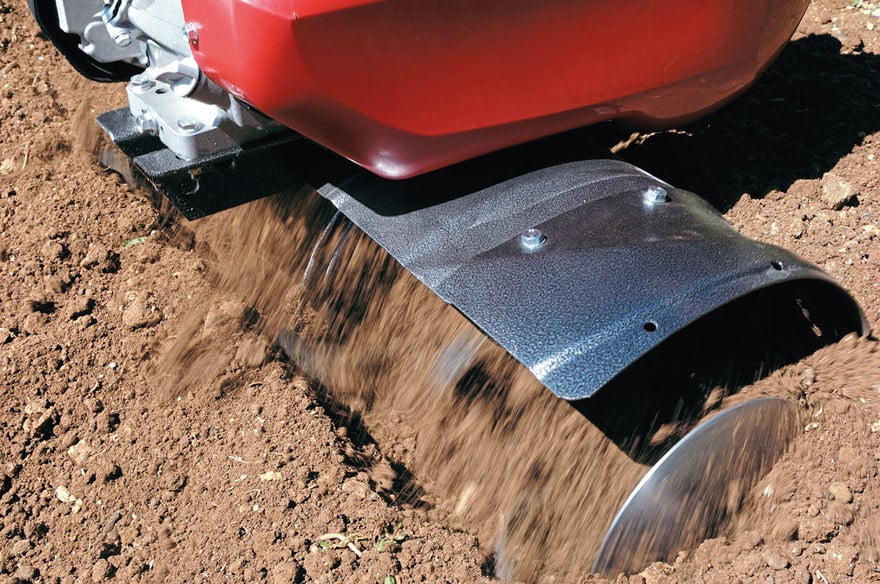 Battery-powered models are quiet and require little maintenance and modern batteries are quick to charge. Some models are petrol powered (two or four-stroke), while a few are run direct from the mains via a cable.
The latter are not always very practical for an allotment – the cable is a safety hazard and not many plots have mains power.
Article continues below...
Greenworks 40v 26cm (10in) cordless cultivator: The Greenworks GWG40TL is a cordless cultivator that can till compact soil. This model features an adjustable tilling width (21-26cm, 8.25-10in) that can be used to break down tough clods to leave fine tilth down to 13cm (5in). (Price £199.99, plus battery)

The Mantis Deluxe four-stroke tiller: This four-stroke tiller weighs just 12kg and is powered by a 25cc Honda engine. It has a 23cm (9in) tilling width and can dig down to 25cm (10in). A range of attachments is available. (Price £549)
The Handy Thpmt two-stroke petrol mini tiller: This features a 30cm (12in) working width and a 20cm (8in) maximum depth. Folding handles and transport wheels make it highly portable. (Price £219.99)
Human Effort
Perhaps you prefer to dig by hand or only have a small area to cultivate. Maybe you are a no-dig gardener who simply needs a digging tool for planting or digging out the roots of pernicious weeds such as docks or brambles. Whatever the situation you'll need some good digging and cultivation tools to help you through the season.
A good quality spade and fork are essential to make lighter work of both digging and planting.Look for models that feel balanced in the hands and are of the right length to suit your height – the length of handles can vary considerably.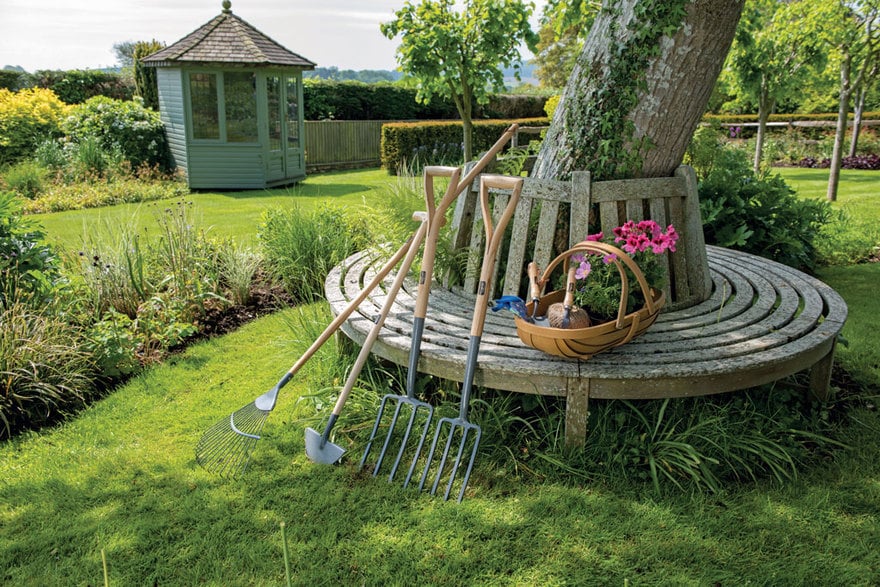 Ash handles and stainless steel heads are highly durable and comfortable, but often heavier than modern alloy types. Treads are also important to reduce strain in the feet when pushing down on the head while digging and you will be offered both D or T-shaped handles, so choose which is more comfortable for you.
There is a raft of other hand tools available for helping to make a nice fine seed bed before sowing and afterwards to help remove weeds and to break up the soil surface should it become compacted.
A favourite of ours is a three-pronged cultivator combined with a small hoe blade on the back so it can be flipped as required to either break up the soil or cut through the roots or stem of a weed.However, there are many and varied hand tools for cultivating the soil and which you prefer is down to personal choice. Here are just a few examples.
The Backsaver Autospade: This spade is designed to help take the strain out of the digging process. The sprung blade throws the soil forwards without bending or lifting and with practice can allow you to dig twice as fast but with less effort. (From £99.99)
The Double Hoe: This WolfGarten hoe is available in a long and short-handled version and is useful for weeding and general cultivation. It is just one of a wide range of cultivating tools produced by the company which includes the highly popular Multi-Change range. (£10.99 with fixed handle.
Silverline Border Fork: This border fork has epoxy-coated hammered finished tines and a polypropylene shaft with D handle. Being slightly smaller than the digging fork in the same range, it is ideal for those who are looking for a lighter tool and great value for money. (Price £10.85)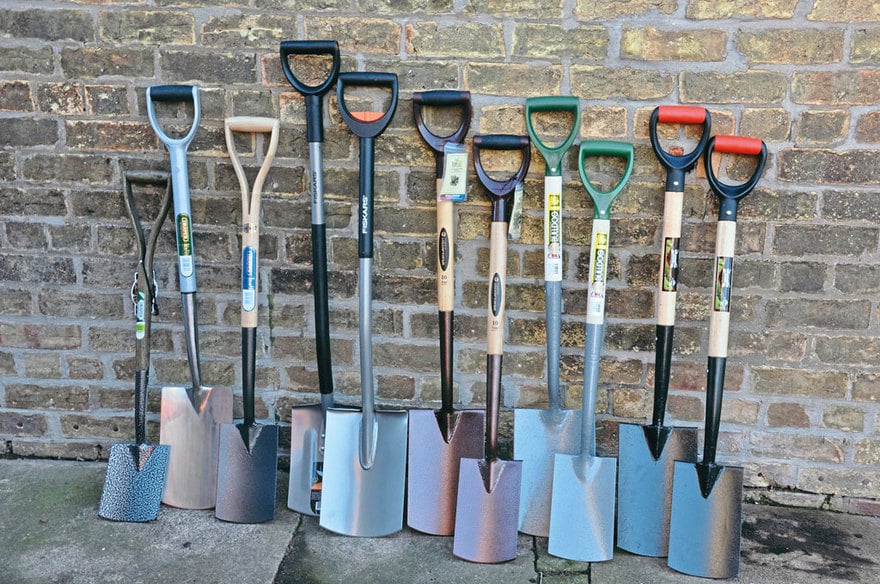 S&J traditional stainless digging fork: This Spear & Jackson Traditional Stainless Steel Digging Fork has a hardwood shaft for durability and mirror-polished stainless steel head for minimum soil adhesion. (Price around £28)
Fiskars Xact spade digging L: This ergonomically designed spade has an extra strong sharp blade and comes in two lengths, suitable for users of 160-175cm or 175-195cm tall. It is very strong yet light in weight – ideal for prolonged use. (From £29.99)
WS stainless steel three-prong cultivator: The Stainless Steel Three-Prong Cultivator from Wilkinson Sword features a weatherproofed ash handle and mirrorpolished stainless steel head which is ideal for breaking up and aerating the soil surface. (£29.99)
Enjoy more Kitchen Garden reading in the monthly magazine.
Click here
to subscribe.
---
Sign-up to the Kitchen Garden Magazine Newsletter
Enter your e-mail address below to see a free digital back issue of Kitchen Garden Magazine and get regular updates straight to your inbox…
You can unsubscribe at any time.
---
---
About the Author
Latest posts by Steve Ott
(see all)