The Eden Project has been given highly prestigious National Plant Collection status by conservation charity Plant Heritage.
Hundreds of red-hot pokers, scientific name Kniphofia, were planted early last year and this spring and summer created a dazzling display of striking flowers on the steeply sloping acre of land with the world-famous Biomes as a backdrop.
This represented the biggest planting scheme at Eden since opening, with nearly 8000 specimens – of which 2000 were red-hot pokers – installed on the slope.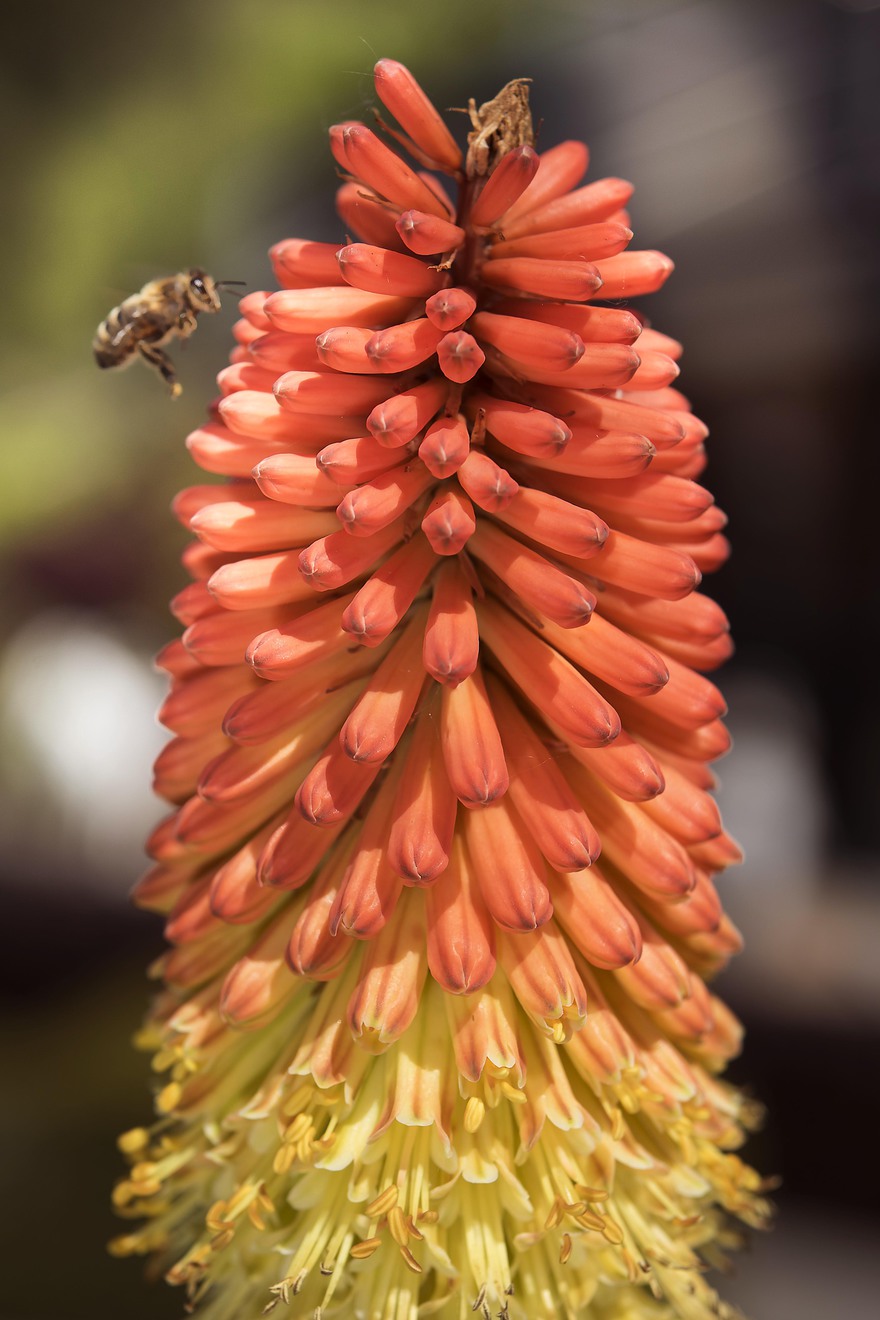 Kniphofia are exotic, bold and bee-friendly perennial flowers which come in a variety of colours, from flame red to pale yellow and green, and can reach well over a metre tall.
The display at Eden is called Bright Sparks to reflect this blaze of colour and also the fact that young horticulture apprentices have been heavily involved in the project.
Eden has just been informed that Plant Heritage has awarded National Plant Collection status to its collections of Kniphofia cultivars (plant varieties created through breeding) and Kniphofia species (those found in the wild). This is the first time Eden has been given this status for a plant collection.
Dr Mike Maunder, Eden's director of life sciences, said: "We are delighted with the accreditation of our new collections by Plant Heritage. This is a wonderful recognition for the hard work and perseverance of our horticulture team. We have a strategic plan for the collection that will maximise its display value, generate research and contribute to the conservation of threatened Kniphofia species in Africa."
Planted out at Eden are 79 cultivars, most of which have come from nurseries and botanic gardens around the UK. In addition, 21 different species and varieties are being grown in pots under cover at the Eden Project nursery, ready for planting next spring at the main site.
The exhaustive research was started by Julie Kendall, who is in charge of Eden's outdoor horticulture team. Working with experts and collectors in the UK and around the world, she has sourced all of the plants for the collection.
Eden has been working closely with Lester Elliott, keeper of the National Collection on the Isle of Wight, who has offered to help with cultivars it cannot find.
Eden is now the only UK garden outside of the Isle of Wight to have National Collection status for Kniphofia.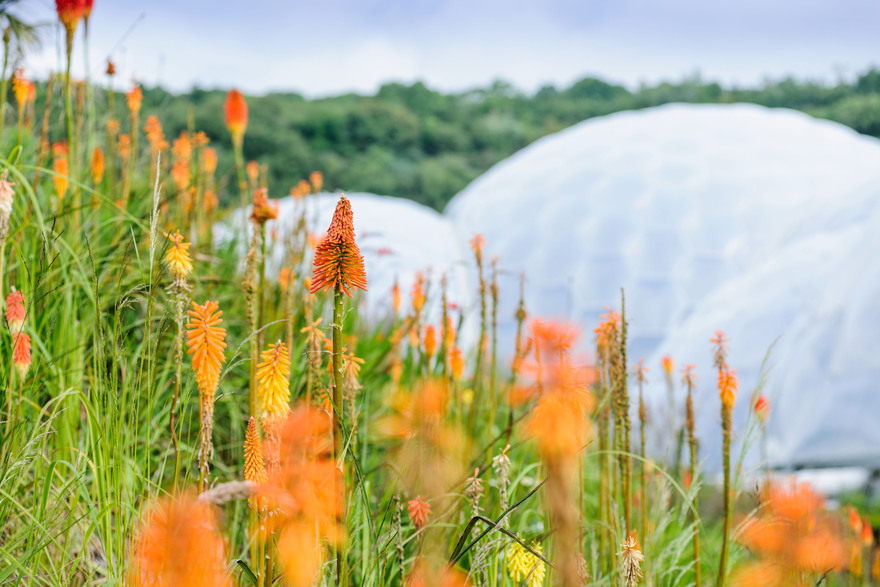 Plant Heritage's National Plant Collection scheme aims to document, develop and preserve a comprehensive collection of one group of plants in trust for the future.
To help fulfil the criteria of becoming a National Collection, Eden's horticulture team have been monitoring and measuring the different plants as they flower to ensure correct classification.
Much of this work is being carried out by Fern Carroll-Smith, seed bank specialist at the project, and Jake Cook, horticulture apprentice, who have checked the identities of Eden's plants against the book Kniphofia: the complete guide by Christopher Whitehouse.
The display has been designed to have a long season – with flowers blooming from May until October every year. Eden's horticulturists predict that flowering will become even more vibrant and profuse as the years go on.
Article continues below...
It has already delighted many plant-lovers among Eden's one million-plus annual visitors.
Julie Kendall said: "It has amazed me how fast the new planting has settled in and how soon we have been able to create a stunning display.
"The red-hot pokers have been flourishing on the hillside and are just going to get better and better. We're looking ahead now to planting the species collection in the spring. We're always on the hunt for new examples to add to our collection."
Fern Carroll-Smith said: "It has been a painstaking but rewarding task measuring, photographing and verifying our Kniphofia collection as they have grown over the last year. It was exciting when we saw our first buds in spring, and finally getting that burst of colour as they flower, and judging whether the plant matched up to our expectations was really satisfying.
"They have caught the eye of our visitors too, and I'm frequently asked the names of some firm favourites. The task is far from complete as we look to add new species, varieties and cultivars to our collections over the coming months and years."
Kniphofias have fallen in and out of fashion at various times over the years and, during the Second World War, many varieties were lost as land was reclaimed for vegetable growing.
They remain a favourite in contemporary gardens, however, and there are so many species and cultivars that most people will find a plant that suits them.
In addition to red-hot pokers, Bright Sparks features striking Chinese windmill palms and flowing grasses and vibrant perennials from the southern hemisphere, particularly South Africa.
When the slope was originally planted, it was the backdrop to a temporary food and education camp and showcased a mix of grasses. Over time, the area became dominated by invasive Phalaris grass which has now been cleared to make way for the dazzling new display.
Red-hot pokers come in many different sizes, shapes and colours and Eden's Bright Sparks exhibit will showcase the best and most vibrant:
The diminutive Kniphofia 'Papaya Popsicle' is an orange and yellow variety that only grows to 30cm high and flowers from June to October.
Contrasting this are the towering yellow 'Dingaan' – named after a Zulu king – and 'Nobilis,' another large cultivar whose flowers are a vibrant orange fading to yellow lower down the flower spike. These can both reach over a metre tall.
'Tetbury Torch' is an orange-yellow variety that has two flowering seasons – early June and late summer.
While most pokers boast long flower spikes, K. rooperi has a large, egg-shaped flower head of glorious orange and yellow blooms.
Red-hot pokers usually flower either red, orange, coral or yellow, but some at Eden will boast different colours, including the green flowers of the 'Green Jade' and 'Mermaiden,' the peach-pink blooms of 'Safranvogel' and the orange-brown tipped cream flower spikes of 'Toffee Nosed'.
Top photograph: Eden Project horticultural apprentice Jorin Lenz-Williams and horticulturist Katie McBride among the Kniphofias in Eden's new Bright Sparks garden.
Enjoy more Kitchen Garden reading in the monthly magazine.
Click here
to subscribe.
---
Sign-up to the Kitchen Garden Magazine Newsletter
Enter your e-mail address below to see a free digital back issue of Kitchen Garden Magazine and get regular updates straight to your inbox…
You can unsubscribe at any time.
---
---
About the Author
Latest posts by Steve Ott
(see all)