Britain loses one of its most influential and best-loved gardeners
It is with great sadness that we announce the death of Beth Chatto OBE VMH, the acclaimed gardener, writer and plantswoman.
Beth Chatto was born on 27 June 1923 in Good Easter, Essex. She attended Colchester Girls' High School and trained to be a teacher at Hockerill College, Bishop's Stortford from 1940 to 1943.
In the early 1940s, she met fruit farmer, Andrew Chatto. Their shared love of plants brought them together and they married in 1943. They lived in Braiswick, Colchester, where their two daughters, Diana and Mary, were born in 1946 and 1948. Andrew died in 1999.
In the early 1950s, a close neighbour, Mrs Pamela Underwood, who ran a nursery, encouraged her to become involved with flower arranging. They both became founder members of the Colchester Flower Club, the second flower club in Britain.
Around the same time, the Chattos met Sir Cedric Morris, whose art school at Benton End, Nr Hadleigh, Suffolk, attracted later to be famous names such as Francis Bacon and Lucien Freud. She learned about plants from Morris but was dismayed when he advised her that to create a great garden she would have to move.
By the late 1950s, she persuaded her husband to build a house on part of his fruit farm at Elmstead Market. The site, with its slope from dry gravelly soil to a boggy, stream-fed ditch gave her the combination of conditions on which to create what has become one of the most famous and loved gardens in the world.
In 1967, she opened a small nursery called 'Unusual Plants'. Although she claimed never to have coined the phrase 'right plant, right place', this was always the abiding tenet of her planting philosophy. The gardens and nursery soon became a place of pilgrimage for keen gardeners.
In early 1975, she was persuaded to enter a small selection of plants at a Royal Horticultural Society show in London, dug up from the garden. Unknown to her at the time, one of the judges wanted to have her exhibit disqualified as he felt her native plants rather than cultivars were no more than 'weeds'. The other judges disagreed and she was awarded an RHS Flora Silver Medal.
Her first exhibit at the RHS's Chelsea Flower Show in 1976 won a Flora Silver Gilt medal, but the following year came the first of ten successive Chelsea Gold Medals. Her stand was unique at the time with its display of plants for dry and damp areas as they would be seen growing in contrast to the traditional Chelsea displays with plants shown in visible black pots.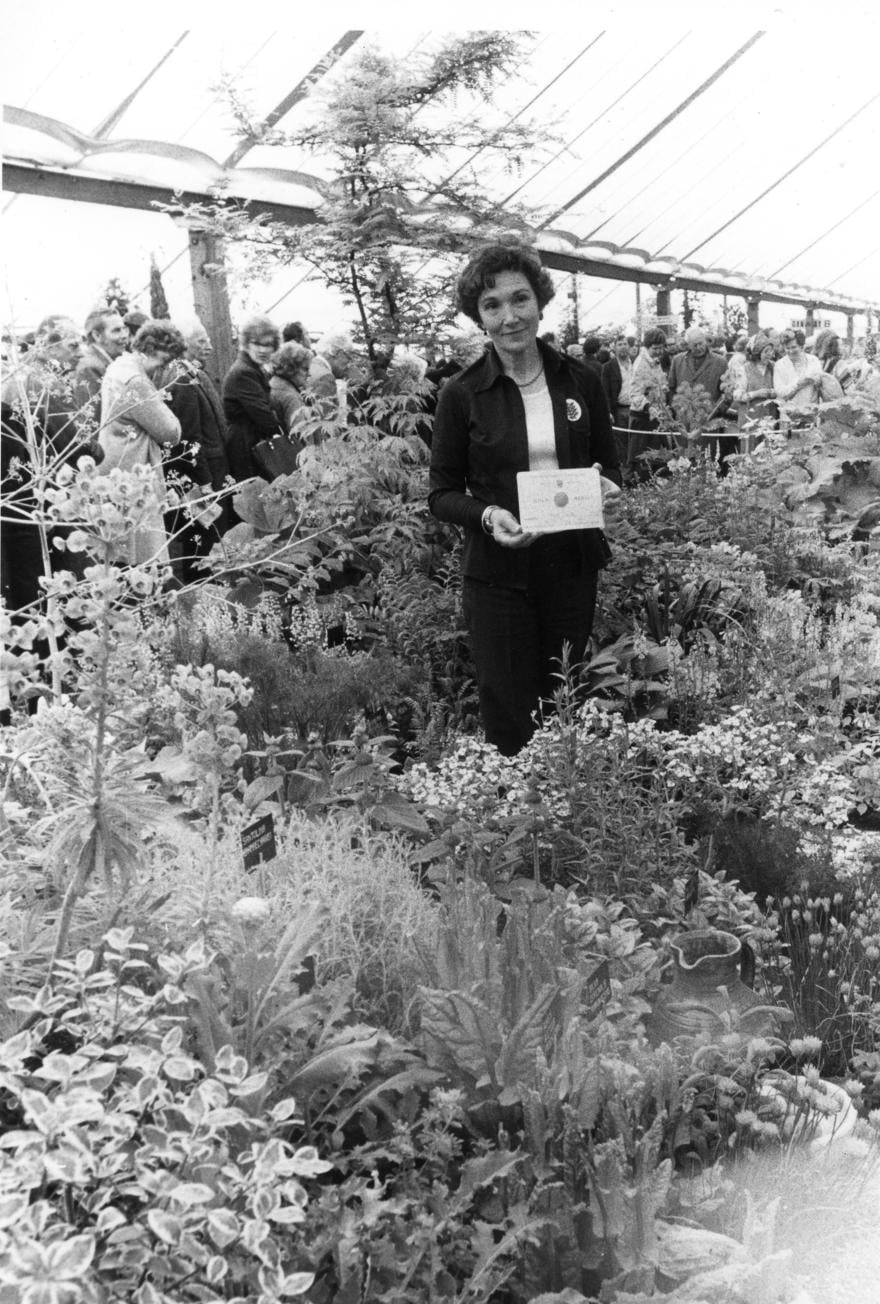 Beth at Chelsea Flower Show in 1979 with one of her 10 Gold Medals
In 1978, she wrote her first book, The Dry Garden, and in 1982 The Damp Garden. These were followed by Plant Portraits (1985), Beth Chatto's Notebook (1988), and The Green Tapestry (1989). In 1998, she collaborated with her close friend, Christopher Lloyd in Dear Friend and Gardener. This was followed by Beth Chatto's Gravel Garden (2000), and Beth Chatto's Woodland Garden (2002). The Gravel Garden, on the site of the old car park, was to become her most famous achievement displaying plants carefully chosen to cope with ultra-dry conditions which have never been watered other than by light Essex rainfall.
Among the many awards bestowed on her, she was enormously proud to receive in the same year, 1987, the RHS's highest honour, the Victoria Medal of Honour as well as their Lawrence Medal for the best display at Chelsea. She was given two honorary doctorates, one from Essex University in 1988, and from Anglia Ruskin University in 2009. Among many other awards, she received a Lifetime Achievement Award from the Garden Writers' Guild (now the Garden Media Guild) in 1998, the Order of the British Empire medal (OBE) in 2002, and The John Brookes Lifetime Achievement Award by the Society of Garden Designers in 2009.
The garden and nursery continue to thrive under the direction of Beth's granddaughter, Julia Boulton. The Beth Chatto Education Trust was established in 2015 to promote her beliefs and give practical advice to future generations of young gardeners.
Julia Boulton, Beth Chatto's granddaughter and Managing Director of the Beth Chatto Gardens said:
Article continues below...
"Beth lived here on site which meant rarely a day went by without her popping into the Gardens, even when she was well into her nineties.
"She was a natural communicator, always keen to talk to visitors, sharing her love of plants and ideas, and of course with the many professional gardeners and colleagues who sought her guidance.
"The Gardens are her legacy, as are her books and other writings, which have had a tremendous influence right around the world and continue to do so.
"Beth's way of planting and her concern for the environment have been widely adopted. It's easy to forget how original these ideas were when she first put started putting them into practice here at Elmstead Market nearly 60 years ago.
"The fantastic gardening team Beth assembled will continue to implement her philosophies, and above all share her passion for plants with the many thousands of visitors who come each year to the Beth Chatto Gardens to admire and learn from her life's work."
"We are delighted that The Beth Chatto Education Trust will also preserve her legacy, by promoting her ideas and giving practical advice to future generations of gardeners."
Beth leaves behind her two daughters, five grandchildren and five great grandchildren.
Enjoy more Kitchen Garden reading in the monthly magazine.
Click here
to subscribe.
---
Sign-up to the Kitchen Garden Magazine Newsletter
Enter your e-mail address below to see a free digital back issue of Kitchen Garden Magazine and get regular updates straight to your inbox…
You can unsubscribe at any time.
---
---
About the Author
Latest posts by Steve Ott
(see all)