As birds struggle to survive the cold snap, your garden can become a haven this winter. Check out these tips from the RSPB.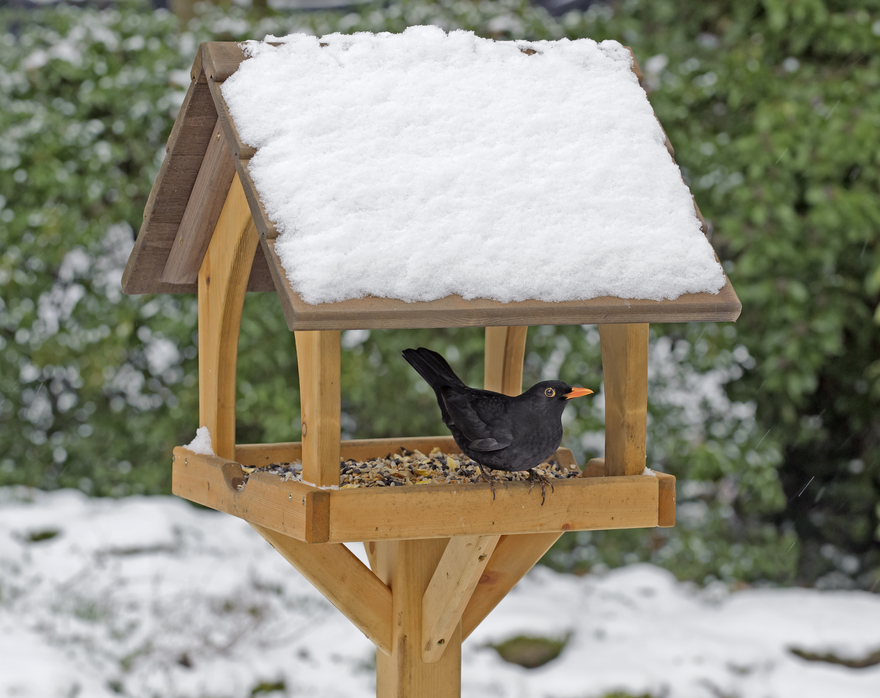 With the Met Office forecasting low temperatures to sweep across the UK, the RSPB is appealing to people to help our garden birds survive the winter.
After benefitting from a mild autumn, birds start to struggle as soon as the cold snap kicks in. The countryside becomes bare as natural food sources dwindle, but more energy is needed just to keep warm and the short days leave less time to find food. The nature charity says there are three key things that birds will need this winter: food, water and shelter.
RSPB wildlife adviser Charlotte Ambrose said: "Up until now birds have been able to feed on insects and seeds, but the cold weather means they move into our gardens to find refuge. You can make a real difference and improve their chances of survival, as well as being rewarded by great views of wildlife in your garden or outside space."
RSPB suggests seven top tips to help, including making wildlife-friendly food and leaving out kitchen scraps. These simple guidelines can improve your garden birds' chances of survival throughout the tough winter months.
Top tips to keeping your birds happy this winter
· Variety is the spice: The best thing you can do is to provide a variety of food. But to keep energy up during the colder months, the RSPB suggests calorie-rich foods like mixed seed, nyjer seed, sunflower seed and good-quality peanuts.
· Make your own: Fat balls or home-made bird cakes only take a few minutes to make and are a great children's activity. These can be made cheaply with lard or suet and are an excellent full-fat winter food.
· Spare some scraps: You don't have to buy food in specially, kitchen scraps like mild grated cheese, old fruit, cooked rice, unsalted bits of fat, roast potatoes and raw porridge oats will all be gratefully received.
· No thank you! There are some foods you should avoid as they can be dangerous for birds. Cooking fat from the roast or Christmas turkey mixes with meat juices during cooking to make a runny, greasy mixture. This sticks to feathers and stop them from being waterproof. Other foods to avoid are dried coconut, cooked porridge oats, milk, and mouldy or salted food.
· Keep it fresh: Another essential is fresh water for drinking and bathing. Finding sources of water can be hard with freezing temperatures, but a simple trick will help keep a patch of water ice-free. Float a small ball, such as a ping-pong ball, on the surface of the water and even a light breeze will stop it from freezing over.
· Hide in a hedge: Providing shelter from the harsh weather is extremely important. Plant dense hedges such as privet or hawthorn, or let ivy or holly to grow and you'll be providing a great place to roost in and shelter from the elements.
· Warmth is key: Nestboxes are not just used over the summer egg-laying season – many birds will use them on a cold winter's night. These boxes are frequently communal with many residents packing in together for extra warmth. The record number of birds found in one box is 63 wrens!
Ensuring your garden is filled with food now will improve your chances of having a successful Big Garden Birdwatch. The RSPB's annual event is on Saturday, Sunday and Monday, January 27, 28 and 29, 2018. To take part, all you need to do is spend one hour at any time over that weekend noting the number of avian visitors to your garden or nearby park. You can sign up for this year's Big Garden Birdwatch from December 13 – rspb.org.uk/birdwatch
Article continues below...
Enjoy more Kitchen Garden reading in the monthly magazine.
Click here
to subscribe.
---
Sign-up to the Kitchen Garden Magazine Newsletter
Enter your e-mail address below to see a free digital back issue of Kitchen Garden Magazine and get regular updates straight to your inbox…
You can unsubscribe at any time.
---
---
About the Author
Latest posts by Steve Ott
(see all)