Read the latest fascinating seasonal news snippets… just for subscribers to Kitchen Garden! Why not sign up and enjoy these extra treats?
RIP Jeremy the snail
Below: Jeremy playing 'uncle' to one of the earlier babies. Above: The first picture of Jeremy's babies. Pictures: Dr Angus Davison/The University of Nottingham
There's tragic news from Nottingham: Jeremy, the sinistral snail who found international stardom following the appeal to find him a similarly left-coiling mate, has died. But the story of his sexual trials and tribulations had a last-minute happy ending: he did finally manage to mate with another 'lefty' snail, and the resulting babies were born just before his death.
Sinistral snails, thought to be one in a million, also have reversed internal organs, so they cannot mate with snails with right-coiling shells. This normally dooms them to celibacy, but Jeremy's plight hit the headlines after Dr Angus Davison of the University of Nottingham appealed for help in finding him a mate. Two were located – Lefty from Ipswich and Tomeu from Spain – but in a cruel twist, they paired off, leaving Jeremy on the shelf. Happily, once Lefty returned to Ipswich, Jeremy got his chance, and Tomeu has now produced 56 babies, about a third of which are likely to be Jeremy's. (Snail relationships: it's complicated.)
Like their many half-siblings, Jeremy's offspring all have right-coiling shells. It is thought more likely that left-coiling babies will be produced in the third or fourth generation – and Dr Davison has also obtained four new sinistrals to add to the breeding programme. It is hoped that his research will offer insights into body asymmetry in other animals, including humans. Jeremy, meanwhile, has left his shell to science; it has been preserved for the University's natural history collection.
Find out more at https://www.nottingham.ac.uk/news/pressreleases/2017/october/rip-jeremy-the-lefty-garden-snail.aspx
Successional sowing sorted
A beguiling new product from Suttons might just have solved the successional sowing issue – not to mention the stocking filler problem. Twelve of the company's most popular varieties for successional sowing are now available in handy mini seed tins containing three small packets. No more ripping of packets and then rolling down the tops with muddy fingers, in an attempt to keep the remaining seed safe and dry – and then forgetting to sow it anyway. These sturdy seed tins do the job for you.
Slightly smaller than a deck of cards, with a hinged lid and retro styling, the tins can be lined up on a shelf 'bookcase fashion' – and reused in subsequent years. They contain twice as much seed as a standard pack, split into three separate packets, and are available at £4.95 each from garden centres or http://www.suttons.co.uk/
Below: Suttons Beetroot 'Rainbow Mix'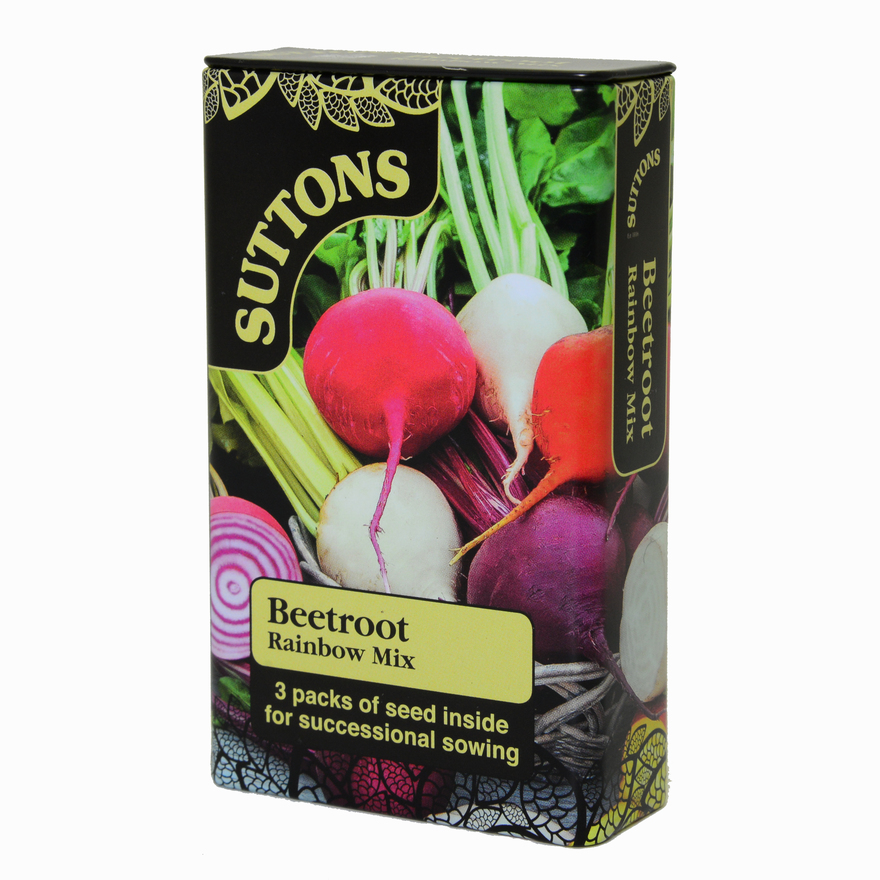 Pumpkins win prizes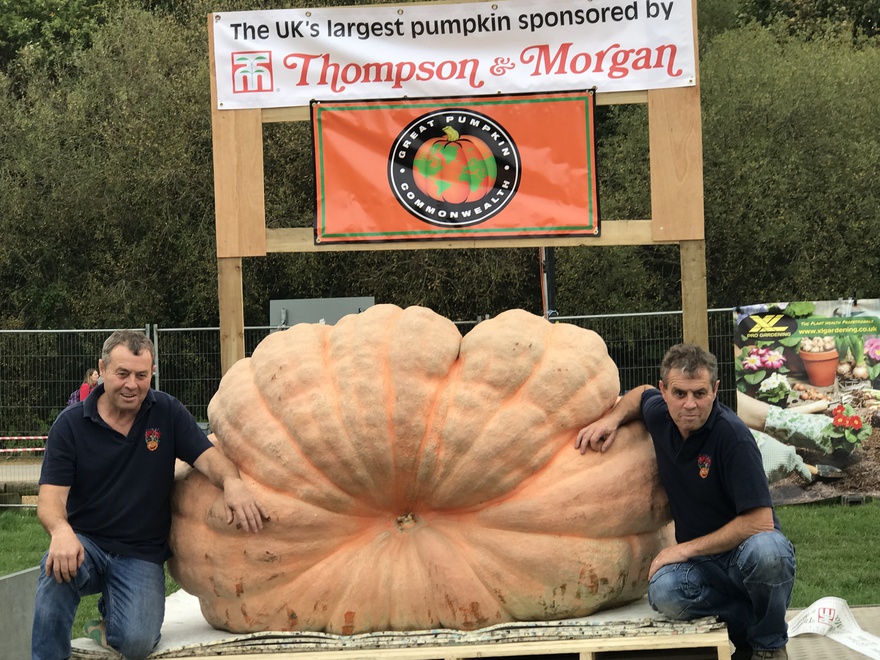 Above: Stuart and Ian Paton with their record-breaking pumpkin. Picture: Thompson & Morgan

No less than four British records were broken at the Autumn Pumpkin Festival in Netley, Southampton on October 14. Hampshire twins Stuart and Ian Paton broke their own record for the heaviest pumpkin grown in the UK. Weighing in at 2269lb (1029kg), their pumpkin beat their 2016 record by just 15lb (7kg). The Paton twins now have their sights set on the world record, which stands at 2624lb (1190kg) and is held by Belgian grower Mathias Willemijns. Ian told the Daily Mail: "There's no secret to it really, just hard work – each year we better our techniques. We will beat the world record, at this rate we will definitely beat it."
Meanwhile, Matthew Oliver of RHS Hyde Hall achieved a new personal best and a new outdoor-grown UK record at 1498.4lb (680kg), claiming that title for a second year. In 2016 he grew a 1333lb (605kg) specimen from the world's most expensive pumpkin seed, bought by Thompson & Morgan at auction for £1250. This year's seed was supplied by a grower in Oregon, USA.
The other UK record breakers at the Southampton weigh-in were Steve Bridges, who took the prize for the heaviest UK-grown squash (457.3lb/207kg), and David Maund with a 176.5lb (80kg) field pumpkin.
Find out more at https://blog.thompson-morgan.com/pumpkin-twins-giant-beats-their-own-record/ and go to https://www.thompson-morgan.com/p/pumpkin-paton-twins-giant/gww4938TM to buy your own potentially prize-winning seed.
London's oldest allotments to become the spookiest
Venture into London's oldest allotments this Halloween if you dare, and follow the spooky pumpkin trail around the site. On Saturday, October 28, from 3.30pm to 7.30pm, Northfields Allotments on Northfield Avenue, West Ealing, will be hosting its annual Halloween Pumpkin Trail, and all are welcome.
Article continues below...
As darkness falls, the site will be lit up with jack-o'-lanterns. There will be a barbecue, beer and mulled wine, face painting, tea and cakes, and a raffle and tombola. Fancy dress is optional. Entry is free, although donations are welcome.
Find out more about the event and the site, which is currently fighting development plans, at http://www.ealingdean.co.uk/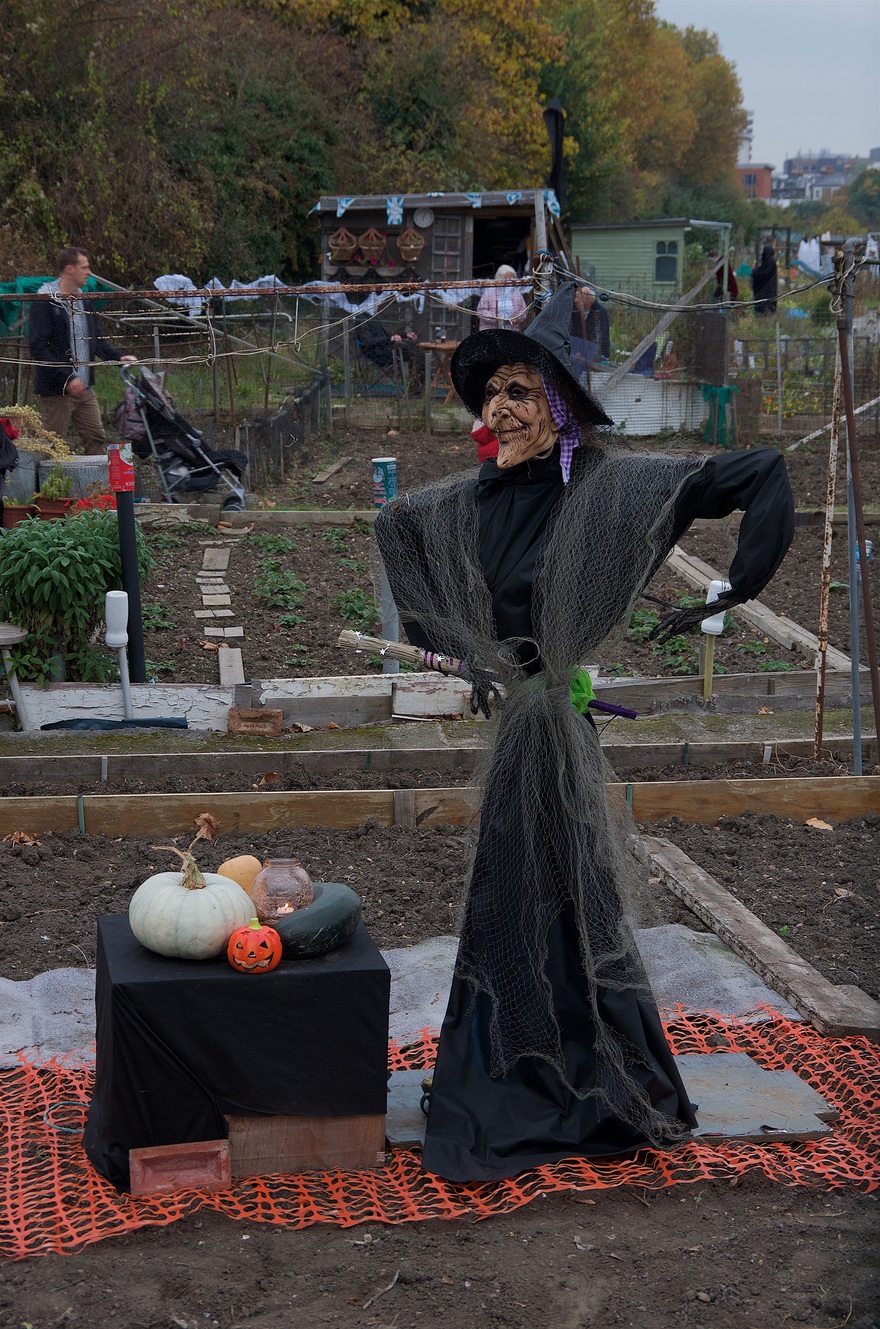 Witching hour: Halloween at Northfields. Picture: David Fox
Help the hedgehog!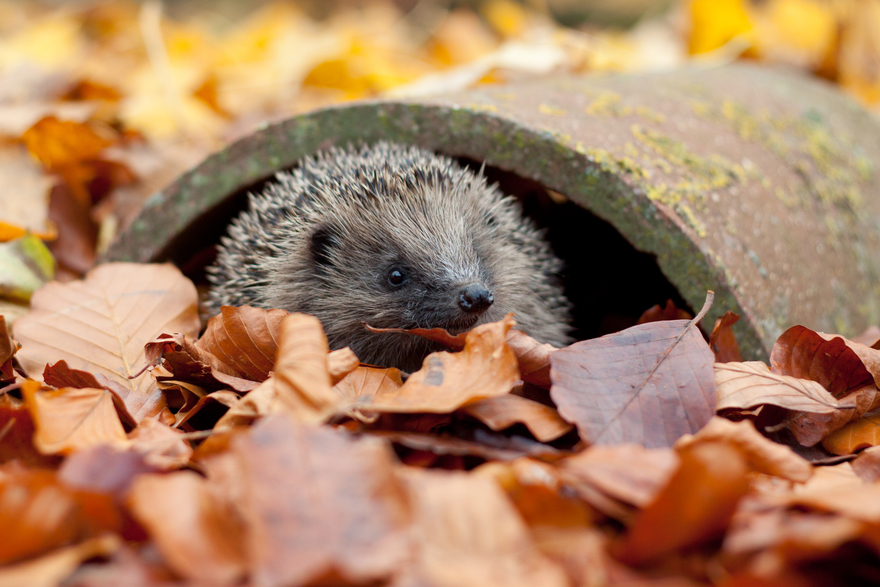 Above: The hedgehog needs our help. Picture: Tom Marshall/The Wildlife Trusts
As autumn arrives, The Wildlife Trusts is calling on all garden-owners to improve their plots' value as hedgehog habitat. In just the last 10 years, UK hedgehog numbers have fallen by 30%, and there are now thought to be fewer than one million left. Gardens, parkland and cemeteries are important hedgehog habitats, alongside hedgerows, woodland and grassland. Combined, our gardens provide a space for wildlife larger than all our national nature reserves.
Ways that gardeners can help include:
Create hedgehog highways
An adult hedgehog will range over an area of up to 20 hectares (50 acres). In built-up areas, this means they range over entire neighbourhoods – so they need to get in and out of your garden easily. Cut a 13cm2 (5in2) hole in your fence to allow hedgehog access.
Provide hibernation and nesting sites
Log and leaf piles, wild areas and purpose-built hedgehog homes make good places for hedgehogs to nest and hibernate. Pile fallen leaves in quiet corners of your garden, or build a hedgehog house – there's a plan, courtesy of Gloucestershire Wildlife Trust, at http://www.gloucestershirewildlifetrust.co.uk/sites/default/files/Hedgehogsml.jpg
Remember hedgehogs on November 5
If you're having a Bonfire Night event, build the pyre on the day so there's no danger of a hedgehog taking up residence before it's lit. Build your bonfire on clear ground and check it again before lighting.
Set up a feeding station
Make a weatherproof feeding station from a plastic storage box, with an access hole just big enough for hedgehogs and a weighted-down lid to deter cats and foxes. There are instructions at https://littlesilverhedgehog.wordpress.com/2016/06/20/build-a-hedgehog-feeding-station/ – where you'll also find a wealth of other hedgehoggy advice and information.
Take part in the national census of hedgehog houses
If you have a hedgehog house – bought or home-made – the Hedgehog Street campaign wants to hear from you. It is conducting a survey to collect evidence which can then be used to shape advice on how best to use hedgehog houses. The survey runs until October 31 at https://www.hedgehogstreet.org/help-hedgehogs/housingcensus/
Download the Wildlife Trusts' free 'Get creative for hedgehogs this autumn' booklet at http://www.wildlifetrusts.org/sites/default/files/files/16597%20WAG%20-%20Hedgehog%2016pp%20Booklet16-7.pdf and find more ideas on how to help at http://www.wildlifetrusts.org/hedgehogs
Enjoy more Kitchen Garden reading in the monthly magazine.
Click here
to subscribe.
---
Sign-up to the Kitchen Garden Magazine Newsletter
Enter your e-mail address below to see a free digital back issue of Kitchen Garden Magazine and get regular updates straight to your inbox…
You can unsubscribe at any time.
---
---
About the Author
Latest posts by Steve Ott
(see all)