Here's a selection of some of the great places just waiting to be discovered during the cold winter months:
There's nothing better on a crisp winter's morning than venturing outdoors to explore frosty landscapes and spot winter wildlife.
From spectacular landscapes and peaceful parklands to exotic colour with rich scents, National Trust gardeners and volunteers have been working hard to create these beautiful winter wonderlands.
Here's a selection of some the great places just waiting to be discovered during the cold winter months:

East
Anglesey Abbey, Garden and Lode Mill, Cambridgeshire
The Winter Garden at Anglesey Abbey bursts with life at this time of year. Designed specifically with plants that give winter colour, texture and fragrance, it is a beautiful sight to be enjoyed by winter visitors. On the winding walk discover bright yellow and red dogwoods and the polished bark of the Tibetan Cherry. Enjoy the scent of winter flowering honeysuckle floating in the breeze and look out for the Himalayan Silver Birch Grove, with their slender white trunks. There are plenty of scenic delights to discover throughout the extensive gardens including historic Lode Mill and magnificent statues collected by Lord Fairhaven.
www.nationaltrust.org.uk/anglesey-abbey
South West
Killerton, Devon
The gardens at Killerton are home to trees and plants from around the world, collected by the Acland family, resulting in a forever changing rich tapestry of colour all year round. A visit to the Chapel is a must during late winter, as the grounds bloom with colour from winter flowering cyclamen, while around the garden enjoy the red colours of berries and the flowers of Persian ironwood (Parrotia persica) and Camellia sasanqua. Don't forget to visit the unique Bear's Hut, meet the Dartmoor ponies on the Clump, and explore the wider parkland using one the six walking leaflets. Wherever you roam at Killerton this winter, there is something to discover.
www.nationaltrust.org.uk/killerton
Make a weekend of it: Three adjoining thatched cottages with thick cob walls (Broad Ley, Mattress and Longmeadow) offer the chance for large gatherings and family get-togethers. While Forest Cottage is tucked away in the Ashclyst Forest on the estate and Killerton Park Cottage is a 1920s carriage drive lodge house.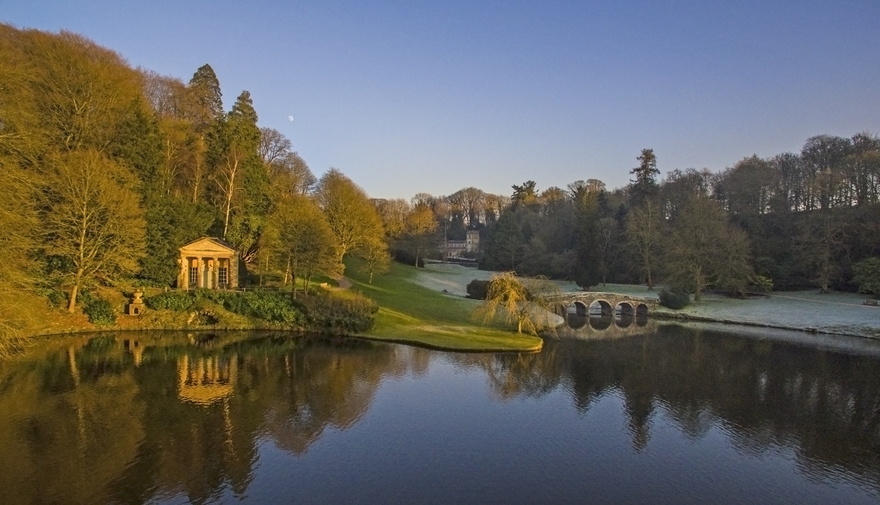 Stourhead, Wiltshire
Stourhead is a beautiful, tranquil place to visit during winter. There's plenty of fresh air on offer in the surroundings of this world-famous landscape garden, where a magnificent lake reflects classic temples, mystical grottos and swathes of surrounding trees. The buildings and statues in the garden are a key part of Henry Hoare II's carefully constructed views. They form focal points around the lake, as if in a living painting. Discover the intriguing Grotto and peer through its circular opening to see the Temple of Apollo and the Temple of Flora beautifully framed by the Grotto's volcanic rock.
www.nationaltrust.org.uk/stourhead
Make a weekend of it: 89 Church Lawn, set at the entrance to the garden this pretty 18th-century holiday cottage, which sleeps seven, allows guests to enjoy the landscape garden after hours.
Article continues below...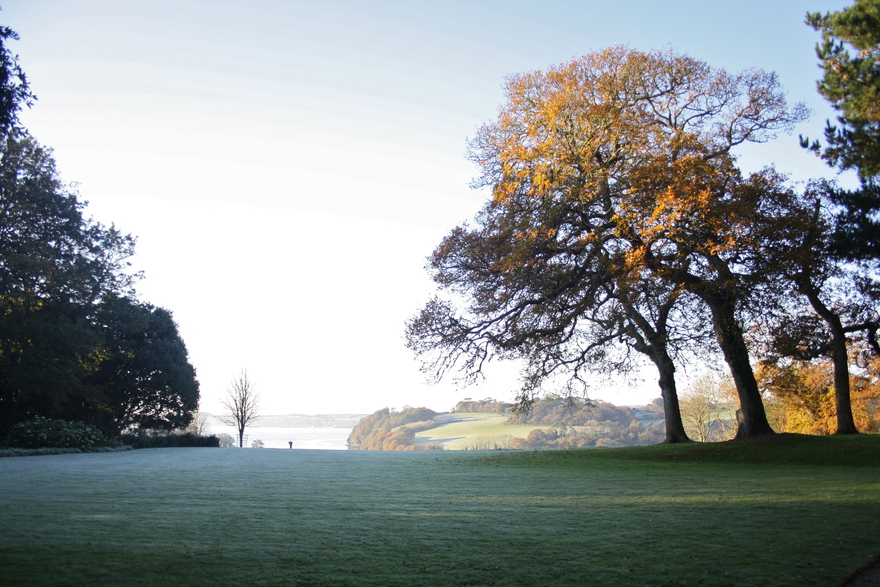 Trelissick, Cornwall
With the mild maritime climate at Trelissick early flowering rhododendrons and camellias bring colour to the garden from February onwards. The borders are scattered with hellebores, cyclamen and snowdrops and the river views are framed and silhouetted by last year's rhododendron mop heads and towering trees. If it gets too chilly there's always somewhere to shelter in the summerhouses. Enjoy warming soups and hot food all winter long in the café, where every treat you buy helps the National Trust care for special places like Trelissick for winters to come.
www.nationaltrust.org.uk/trelissick
Make a weekend of it: Take your pick from six holiday cottages on the Trelissick estate, including the Rapunzel-like Water Tower, two lodges, a cottage situated on the water's edge at the Quay.
Dyrham Park, Gloucestershire
Dyrham's garden offers a spectacular scene in winter with patches of colour peeking out through the winter trees including bright blue porcelain berries and vibrant red dogwood. Take a wander through the crisp grasses in the perry pear orchard and enjoy picture perfect scenery as you look over past the bee hives towards St Peter's Church. Follow the serpent path alongside the ponds back towards the courtyard garden where you might even spot a few robins darting about.
www.nationaltrust.org.uk/dyrham-park
South East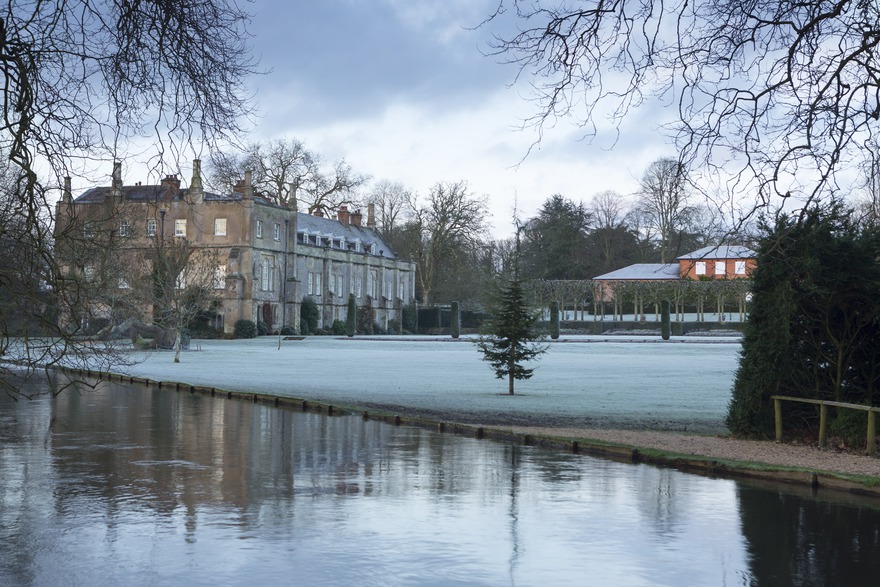 Mottisfont, Hampshire
Mottisfont's winter garden has matured into a beautiful and unique landscape, full of horticultural treasures. Stroll along paths through winter-flowering shrubs and both late- and early-flowering perennials, rich in colour and scent. Brilliantly coloured dogwood bark and silvery ornamental bramble provide splashes of colour alongside berries and fruit even on the shortest days of the year. Gullies of foliage appear to wind through the banks of willow like water and spill into the stream. As winter continues, the garden becomes a refuge for other late flowering shrubs such as mahonia, sweet-smelling winter honeysuckle and daphne.
www.nationaltrust.org.uk/mottisfont
Ham House, Surrey
Discover frosty topiary in the formal Cherry Garden glistening in the winter sun. Then take a crisp winter walk across the Ham House estate to the maze-like Wilderness. Part of the original 17th-century garden, the Wilderness has 16 compartments to explore and is transformed into a winter wonderland during the cold months. Finish your tour with a stop at the Kitchen Garden and discover the vegetables and herbs still available at this time of year.
www.nationaltrust.org.uk/ham-house-and-garden
Osterley Park and House, Middlesex
Meander through the ever-evolving Winter Garden at Osterley which provides bursts of coloured bark, fabulous leaf shapes and seed heads in abundance during the winter months. Covered in a thick haw frost, every branch and berry is defined. A highlight at this time of year is the Clematis Urophylla 'Winter Beauty'. Its delicately fragrant, waxy, white bell-shaped flowers shoot through lush green foliage even in the depths of winter.
www.nationaltrust.org.uk/osterley-park-and-house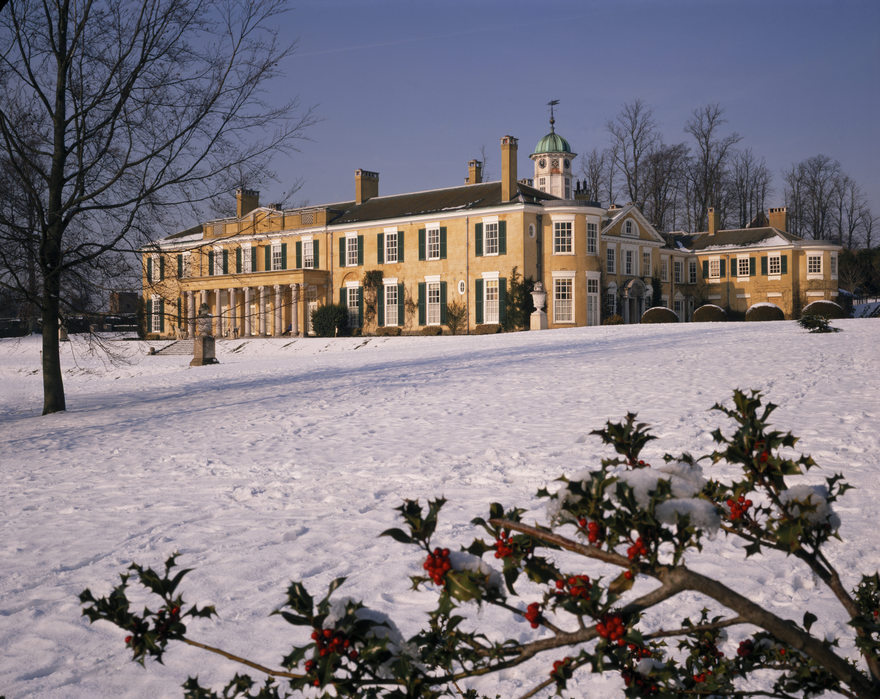 Polesden Lacey, Surrey
Polesden Lacey is home to one of the first ever winter gardens, designed by the late English botanist Graham Stuart Thomas. The garden is bright with colour, with beds of yellow aconites beneath Persian Ironwood trees that produce blood red buds in winter. Look out for the enchanting displays of snowdrops that come out along the Lime Walk and throughout the winter garden in late January and early February.
www.nationaltrust.org.uk/polesden-lacey
Make a weekend of it: Garden Cottage is a 19th-century, ivy clad cottage situated next to the rose garden in the heart of the Polesden Lacey estate. Sleeping six there are great walks from the front door.
Wales
Bodnant Garden, Conwy
Bodnant's winter garden has now been open for almost four years and with its colourful and fragrant plants it brightens up even the coldest of winter days. Discover coloured-stemmed birches, bright bergenias and bulbs such as snowdrops, iris, cyclamen and crocus. Enjoy the scent of winter shrubs such as hamamelis, daphne and sarcococca. At weekends during the winter months you'll be able to enjoy a warming cuppa in the bottom of the garden at the Dell tea stop. With hot drinks, snacks and a warming fire, it's the perfect place to pause and reflect while on your way round the garden.
www.nationaltrust.org.uk/bodnant-garden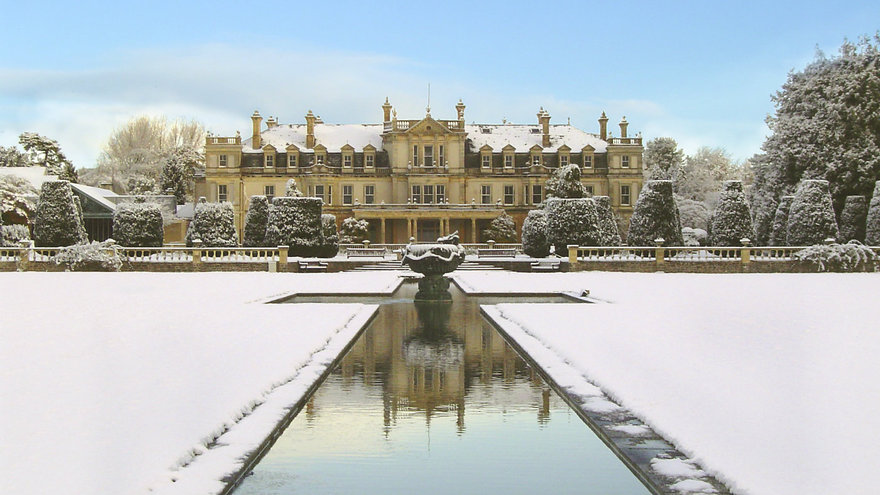 Dyffryn Gardens, Vale of Glamorgan
Discover Dyffryn Gardens' enchanting series of intimate outdoor rooms. In the Kitchen Garden you'll be able to spot flourishing home grown vegetables such as curly kale, sprouts and cabbages. Wander through the arboretum past bright red holly berries and discover the winter roses on a frosty walk down the winding paths. Warm up in the glasshouses where you'll find a bright and airy vinery, a cacti house and a tropical feeling rainforest blooming with orchids and banana trees.
www.nationaltrust.org.uk/dyffryn-gardens
Colby Woodland Garden, Pembrokeshire
During the winter months Colby welcomes a surprisingly rosy colour palette. The woodlands are full of holly with bright berries while the edges of the meadow are lined with red dogwood, and in the walled garden you'll find pink hellebores. White bark birch trees sparkle in the winter sun and the aptly named rhododendron 'Christmas Cheer' is in flower from late January. The paths are dog-friendly too, perfect for getting the whole family out for a winter stroll.
www.nationaltrust.org.uk/colby-woodland-garden
Make a weekend of it: There are three places to stay the wooded Colby valley, Little Breck, a substantial bungalow sleeping six and Rose Cottage, and The Cwms which both sleep four.
Northern Ireland
Mount Stewart, County Down
Mount Stewart's gardens lie within a natural amphitheatre sheltered from strong winds, giving them a unique micro-climate. The surrounding water is warmed by the Gulf Stream which enables the gardeners to grow many rare and tender plants even in the winter months. Discover white and pink winter-flowering rhododendrons, vibrant 'Trewithen Blue' flowers and bright yellow witch hazel. Magnolia and camellia come into flower early at Mount Stewart so visit from mid-January for an early taste of spring.
www.nationaltrust.org.uk/mount-stewart
Rowallane Garden, County Down
As other plants start to hibernate, a range of winter scented shrubs come to life at Rowallane Garden. Take a stroll among winter flowering viburnums, mahonia and the fragrant yellow flowers of witch hazel. Also look out for sarcococca; otherwise aptly known as the Christmas Box, with its strong scent. Afterwards enjoy a warming cup of tea and a scone in the cosy café, where every penny you spend goes towards caring for special places like Rowallane for future generations.
www.nationaltrust.org.uk/rowallane-garden
Midlands
Biddulph Grange Garden, Staffordshire
Biddulph Grange is one of the most exciting survivals of the great age of Victorian gardening. The garden was the vision of one man, James Bateman, who from 1841 spent more than twenty years collecting plants from all over the world. The plants and trees were brought together at Biddulph amid rockwork, topiary, tree-stumps and an extraordinary collection of eclectic garden buildings designed by Bateman and Edward Cooke. Take a stroll through the Pinetum during the winter months where the path weaves its way between conifers, hollies, yews and monkey puzzle trees, which look especially enchanting with a frosting of snow.
www.nationaltrust.org.uk/biddulph-grange-garden
North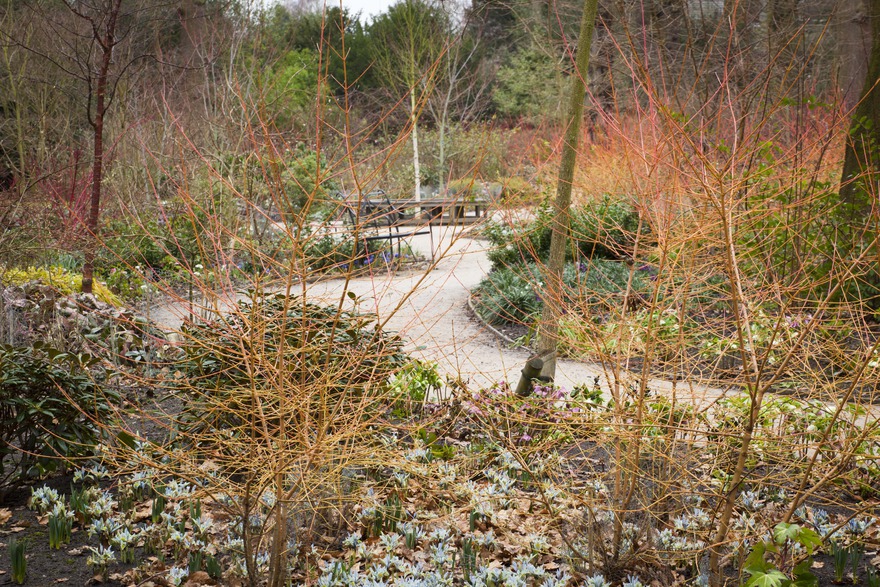 Dunham Massey, Cheshire
Dunham Massey's Winter Garden is the largest of its kind in the UK. The seven-acre garden is home to over 500 different plant species and a further 1,000 shrubs providing plenty of distractions from the cold – from striking white-stemmed silver birches and bright dogwood barks to colourful berries and flowers. Beneath the trees, thousands of bulbs spring to life over the cold season, including snowdrops, white cyclamen and striking blue winter irises.
www.nationaltrust.org.uk/dunham-massey
Sizergh, Cumbria
With winter comes the opportunity to discover Sizergh's newly created stumpery and take in the seasonal planting in the garden, showcasing coloured and textured bark as well as winter berries and bulbs. The twisted trunks of the Acers in the rock garden are laid bare amongst the limestone and iced-over rock pools. After a bracing stroll around the gardens warm up with a hot drink and a tasty treat from the café.
www.nationaltrust.org.uk/sizergh
Make a weekend of it: There are two holiday cottage so on the Sizergh estate, a farmhouse sleeping eight and a smaller cottage for six in the heart of the working estate. With white washed walls and exposed beams both offer a cosy country escape.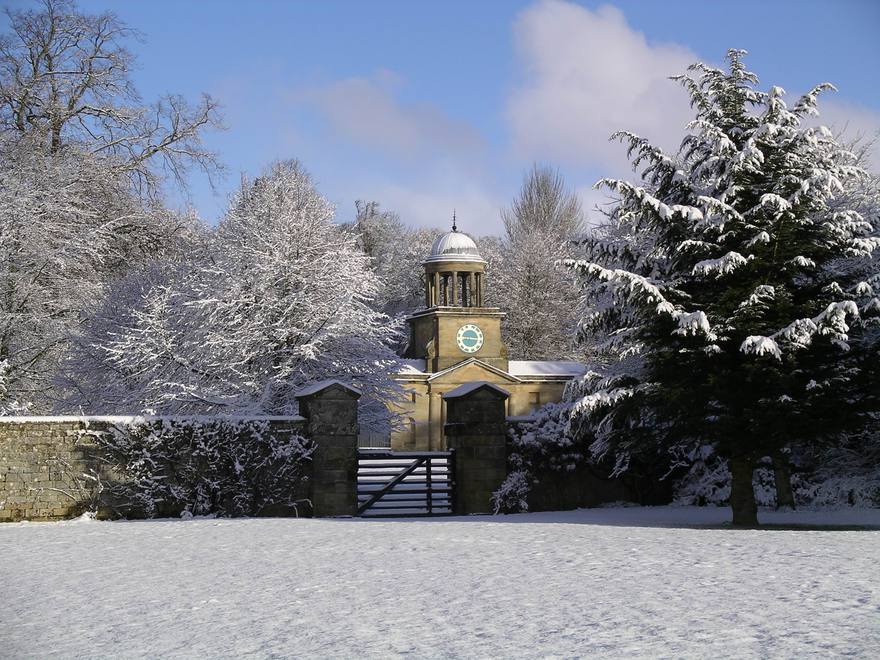 Wallington, Northumberland
Leave the formality of the house behind this winter and explore the wonderful 18th-century pleasure ground waiting for you in the woods at Wallington. Follow the growing winter trail and take in the seasonal planting through the East Wood, with trees, shrubs and plants showcasing coloured and textured bark and winter berries. Discover the mini-lake covered in a sprinkling of frost and the enchanting Walled Garden, where the Edwardian conservatory bursts with colour and scent all year round. The grounds at Wallington are open all year round, including Christmas Day, and are the perfect place to walk off the Christmas dinner.
www.nationaltrust.org.uk/wallington
Every single visit supports the National Trust's conservation work, looking after special places for people to enjoy for years to come.
Enjoy more Kitchen Garden reading in the monthly magazine.
Click here
to subscribe.
---
Sign-up to the Kitchen Garden Magazine Newsletter
Enter your e-mail address below to see a free digital back issue of Kitchen Garden Magazine and get regular updates straight to your inbox…
You can unsubscribe at any time.
---
---
About the Author
Latest posts by Steve Ott
(see all)