It's National Asparagus Day on April 23, so to celebrate, why not make space for some crowns in your garden, says KG editor, Steve Ott
At this time of year we are all in the process of filling our plots with short-lived and fast-growing annual vegetables and salads, but it is worth saving some space for the slow-burners of the veggie world – perennial veg – those which just keep growing to give a crop year after year. And none are as long term as asparagus.
Growing asparagus isn't difficult, but it does require a little patience. Plants are relatively easy to grow from seeds, but you will have to wait for at least three years before you get to harvest any of those delicious spears. Also female plants (those producing berries) may have to be identified and weeded out to prevent self-seeding. Yet there is an easy way to speed up the process and that is to buy ready-grown, all female plants – known as crowns – from a reliable supplier. This is the ideal time to order and plant some.
PREPARING FOR YOUR CROWNS
With asparagus, soil preparation and is the key to success. Commercial crops are often grown on very free draining very sandy soils. Not all of us are lucky enough to have such a soil, but even if you garden on a heavy clay there some simple techniques you can use to ensure good growth.
STEVE'S TOP TIP
Take time over soil preparation since your plants will be cropping for at least 10 years.
First choose a sunny, sheltered site and next do all you can to improve drainage and remove the roots of perennial weeds. The latter is essential since once planted the delicate and shallow roots of asparagus so not like to be disturbed.
Improving the drainage may involve deep digging to break up any hard layers (pans) in the soil, while adding plenty of well rotted garden compost, manure or other organic matter at the same time. Whatever you add should be weed free. Then, a week before planting add 56g (2oz) per sq m/yd of a general fertiliser such as pelleted chicken manure or Growmore.
STEVE'S TOP TIP
No room for an asparagus bed? Grow a few plants at the back of a border (they are very attractive with their feathery foliage) or crow a single crown in a large container.
PLANTING
When your crowns arrive they should be planted as soon as possible to prevent drying out. If you can't plant immediately carefully heel them in or plunge into boxes filled with damp potting compost.
Again planting is all about giving the roots the best drainage possible so it is usual to dig a trench about 30cm (12in) wide, or wide enough to accommodate the roots without bending or restricting them and about 20cm (8in) deep. To this add a mound of gritty soil to the bottom of the trench about 8cm (3in) deep. The spider-like roots are splayed out evenly over this mound to help water drain away form the vulnerable shoots at the centre. Plant the crowns 45cm (18in) apart with rows 1m (3ft apart). Cover the crowns with 5cm (2in) of soil, gradually topping up until the trench is filled as the shoots develop.
AFTERCARE
Article continues below...
Don't attempt to cut any spears in the first year – in any case they will be too thin to eat – and the plants simply need all the growth they produce to feed the crowns and to establish in their new home. If however, you simply can't resist it, take just one spear per plant. Otherwise all you need to do is to keep the bed weed free, weeding by hand so as not to damage the roots and water during dry summer spells. The ferny top growth may require support from a bean net stretched over the crop on stakes or similar as they are vulnerable to snapping in strong winds.
Remove the ferns just above soil level when they begin to turn yellow in the autumn and follow this with a layer of garden compost or manure over the bed in late winter as the spears begin to emerge. In February apply a dressing of general fertiliser at the rate above.
CROPPING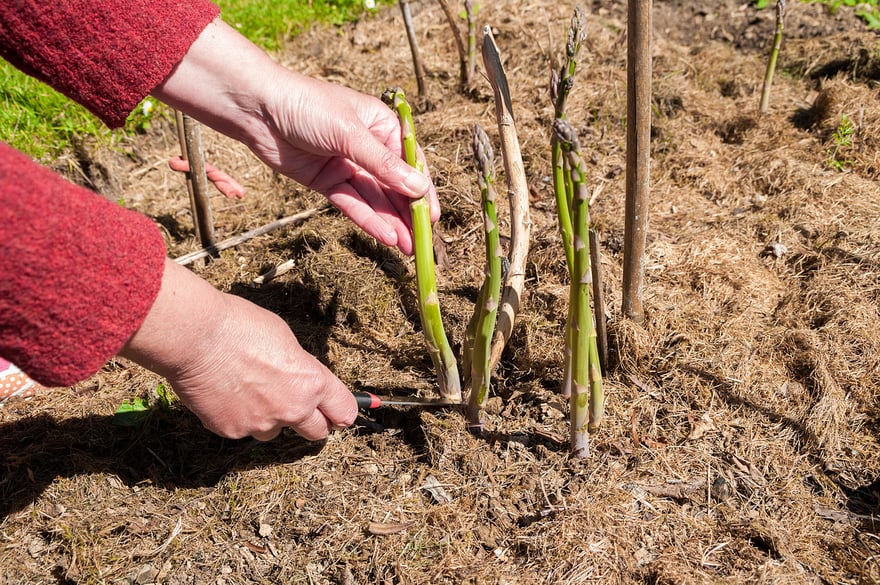 Cropping proper begins in year two when you can take a few spears form each plant and in year three when you can remove as many spears as you need. Once the spears are 10-15cm (4-6in) long cut them a few inches below soil level with a sharp harvesting knife (purpose-made asparagus knives are available if you are very serious about your asparagus). They are best used as soon as possible although they will keep for a few days in the fridge or can be blanched and frozen should you produce a glut from your plants once established.
Stop cutting the spears in mid-June and allow them to grow into the tall ferns which will feed the crowns for next spring.
WATCH OUT FOR
Slugs can be very damaging as the spears emerge or even before in the case of soil-dwelling keeled slugs and you need to keep them in check. Applying nematodes once the soil reaches 5C (40F) or once the spears start to emerge is the best option especially for soil-dwelling species since it is applied by watering on. Pet friendly slug pellets applied strictly in accordance with the instructions are the next best option and these will need to be reapplied occasionally while harvesting continues and until the ferns are established.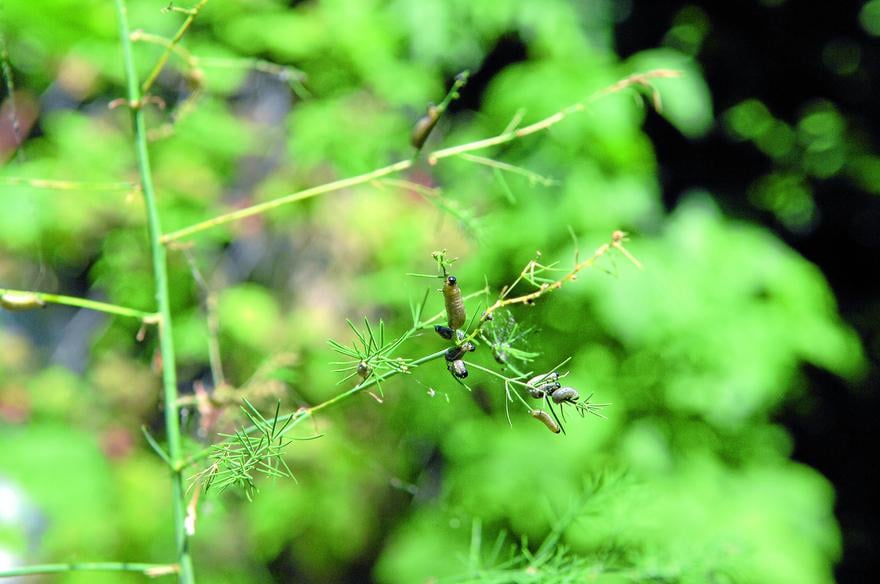 Asparagus beetle will inevitably appear at some stage and the plump maggots will feed on the ferns quickly stripping them and weakening the plants if allowed to continue. The beetles are small (6mm/1/4in) long and reddish brown with six distinctive yellow spots on their backs. Pick off light infestations or in severe cases consider spraying with a suitable insecticide such as Bug Clear Gun For Fruit & Veg (pyrethrum) or ecofective Bug Killer (pyrethrum and fatty acids).
Hard frosts can be damaging to newly emerged shoots so consider covering he bed with fleece at night in the early stages to protect them.
FAVOURITE VARIETIES
Asparagus 'Gijnlim'
This male dominant F1 hybrid variety produces heavy crops of succulent green spears just one year after planting. It can also be grown as white asparagus if the plants are covered with a mound of sandy soil and harvested before they push through the ground. Season: early/mid.
Asparagus 'Pacific 2000'
This hybrid variety has been carefully chosen after many years of rigorous UK trials and is already proving very popular with commercial growers. It produces heavy crops of uniform spears that are so tender they can be eaten raw. The flavour is superb – it is perhaps the sweetest green asparagus variety available! Season: early/mid.
Asparagus 'Stewarts Purple'
This F1 hybrid purple asparagus is considerably sweeter than any of the green varieties. The low fibre content means the spears are particularly tender even when eaten raw, with virtually no waste at the base. Excellent cooked, but also a very attractive and tasty addition to salads. Commercial trials have shown this variety to out-yield many of the green types. Season: mid/late.
SAVE UP TO £12 ON ASPARAGUS CROWNS!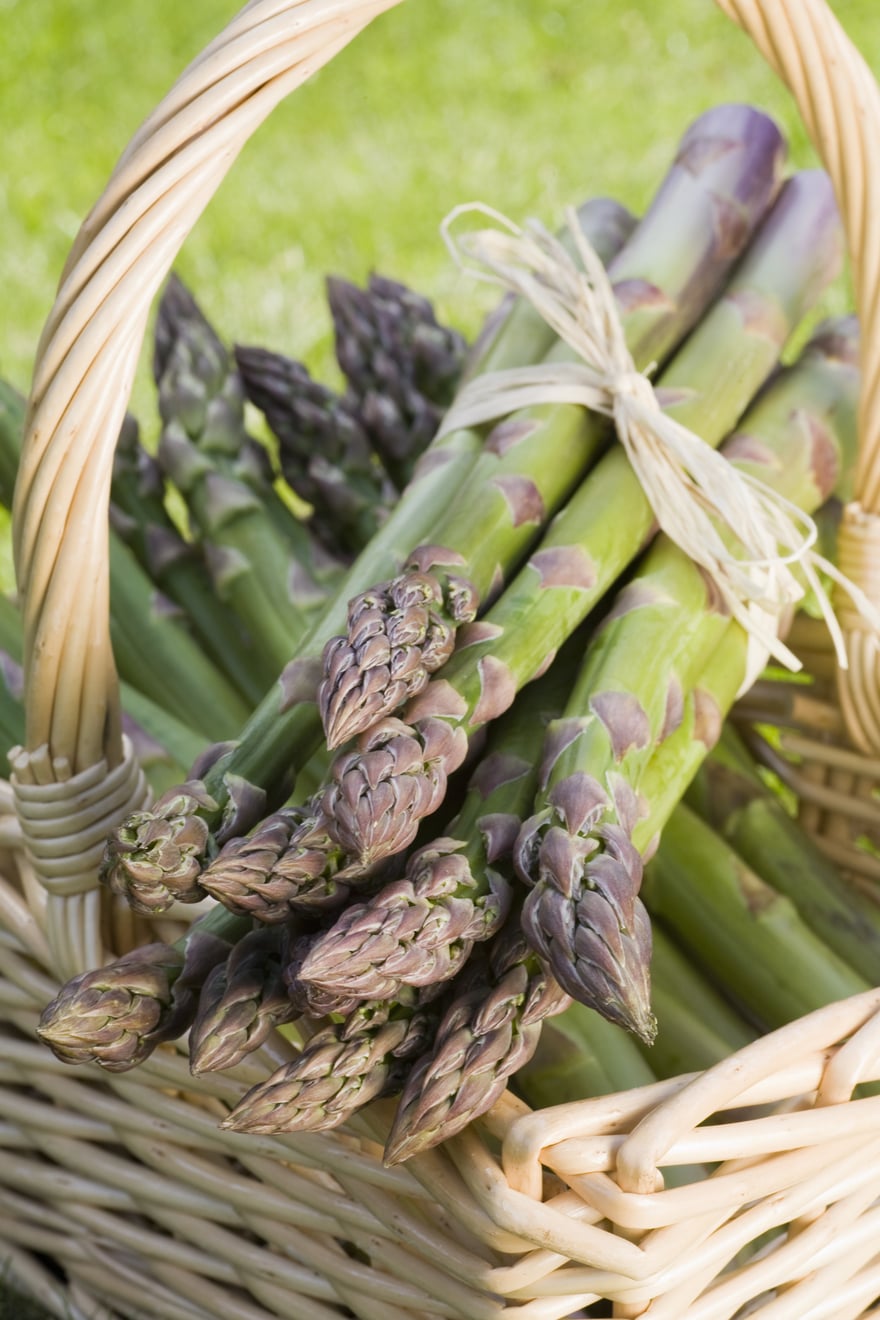 Asparagus 'Gijnlim'. Photo copyright Pomona Fruits Ltd/Claire Higgins
This month we have joined forces with leading fruit and young plant supplier Pomona Fruits to bring you a super offer on top quality asparagus plants
Asparagus is expensive to buy in the shops but easy to grow and tastes delicious freshly harvested from the garden. There is no other vegetable that beats home grown asparagus, simply steamed and served with melting butter – the best way to enjoy full-flavoured, deliciously sweet and tender spears! Once established 12 plants will produce any average crop of 10kg (22lb) annually for 12 years or more. We supply one year old hand selected 'grade A' crowns which will establish quickly so that you can harvest your first crop just one year after planting.
Choose from the following options and save up to £12!
'Gijnlim' (12 Crowns) (ASP004) £16.50 (normally £18.50)
'Pacific 2000' (12 Crowns) (ASP002) £16.50 (normally £18.50)
'Stewarts Purple' (12 Crowns) (ASP003) £16.50 (normally £18.50)
18 Crown Collection – 6 each of the above 3 varieties. (code AS903) £24.50 (usually £28.50)
36 Crown Collection – 12 each of the above 3 varieties. (code ASP915) £43.50 (usually £55.50)
To order visit www.pomonafruits.co.uk/KG4ASP or call 01255 440410 with your credit or debit card, quoting offer code 'KG4AP'. Offer closes on 30/04/2019. Offer is available to UK addresses only.
Enjoy more Kitchen Garden reading in the monthly magazine.
Click here
to subscribe.
---
Sign-up to the Kitchen Garden Magazine Newsletter
Enter your e-mail address below to see a free digital back issue of Kitchen Garden Magazine and get regular updates straight to your inbox…
You can unsubscribe at any time.
---
---
About the Author
Latest posts by Steve Ott
(see all)